Is your pregnancy unplanned? Do you need help making sense of the options available?
Are you pregnant and considering adoption?
Looking for an adoption agency near Amarillo, TX?
We are here in Amarillo to help you.
Call us at (806) 410-1023 today!
At Adoption Advocates, we have immense respect for birth parents.  We understand this can be a tough time for you. We know you want the best for your child, and we want what's best for both of you. We know you are a responsible and caring person.  Making an adoption plan for your child is a very loving and important decision.  Speaking to an adoption agency counselor may help you make sense of the options available to you.
Adoption Advocates may provide the following care and adoption services to you:
Counseling (individual, group and/or family sessions near Amarillo) before and after you place your child
Financial assistance including living and medical expenses
You can choose to give the gift of parenthood
You can rest assured your child will know he/she was placed for adoption through an act of love
You can select the family you want to parent your child
You can meet the family and establish a relationship so you know how your child will be raised
You can participate in a post-placement plan with the adoptive parents that meets your needs and desires
Follow-up counseling services after relinquishment
If you are pregnant and near Amarillo, TX, we are here to help; so give our Amarillo Adoptions Department a call! Experience no pressure and no obligations. While our adoption agency is based in Austin, we have a friendly, experienced staff member in the Amarillo area available to you by phone and in person to answer questions and help you feel comfortable.  Our Amarillo adoption specialist can help you to understand the process and get you the assistance you need. We will guide you through the adoption process with information, counseling, patience, and respect. A staff member is available in Amarillo to speak to you 24 hours a day, seven days a week. Additionally, we have relationships with numerous local support services, healthcare providers and more – everything you will need if you decide adoption is right for you. Want to hear from one of our birth parents? We encourage you to read Ashley's story below and give us a call today to learn more!
Call us at (806) 410-1023 to have a stress-free conversation with a member of our friendly staff.
Adoption Advocates works with birth parents all over Texas. We will come to you wherever you are in Texas so you don't have to travel.
Ashley's Story – Amarillo and Texas Panhandle-Area Birth Parent Stories
"When I decided to choose an agency eight hours away from me, I was worried that the experience would not be personal. I was afraid that because I couldn't go into the office, the agency wouldn't really know me. The first few times I called after we started our journey, I would say 'Hi, this is Ashley Andrews* from Amarillo…' after a few times I realized how silly this was. They knew me and cared about me. From then on I just said 'Hi, this is Ashley,' and they would ask me how I was doing and what I needed. One of the things I liked most about AAI was the birth mother counseling services. Because I was so far away, I wasn't sure how this would work out. Fortunately, AAI really cares about birthmothers. Before I even met with a counselor in person, I was able to e-mail Erin 24/7. I talked to her about everything, and she always responded. Eventually I was set up with a counselor in Amarillo. She was an amazing help, and even went to the hospital with me. I still see her today. It's funny to think back to my initial anxieties. The agency may have been hundreds of miles away, but they were able to give me so much support that it felt like they were here." *Name has been changed for confidentiality. Click here to read more success stories like this one.
Meet our Amarillo-Area Adoptions Coordinator: Holly Campidilli, LCSW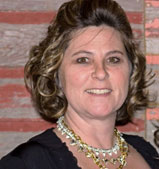 Holly serves as AAI consultant for expectant parents and adoptive parents in the Texas Panhandle. As the Amarillo Adoptions Coordinator, Holly provides assistance to both birth parents and adoptive parents with all aspects of adoption planning. She provides education about the adoption process and open adoption, assists with hospital planning, conducts counseling before and after placement, hospital support services and post adoption counseling.  Holly can also assist with Medicaid applications, referrals to physicians and other community resources. Holly comes to Adoption Advocates with over 20 years of experience in the adoption field. In addition to serving as Amarillo Adoptions Coordinator, Holly also teaches Intro to Social Work at Amarillo College, and works part time as a Behavioral Health counselor at a local Amarillo behavioral health hospital.
Amarillo-Area Hospital Resources for Expectant Mothers
Baptist St. Anthony's BSA Hospital
1600 Wallace Boulevard
Amarillo, TX 79106-1799
(806) 212–2000
 Northwest Texas Women's & Children's Healthcare Center
814 Martin Rd,
Amarillo, TX 79107
(806) 468-4390
(806) 468-4673
Amarillo-Area Pregnancy Testing & Family Planning
Haven Health Clinic
1501 S Taylor St, Amarillo, TX 79101
(806) 372-8731
Amarillo-Area Support Groups for Expectant Mothers
Samaritan Counseling Center (*Pastoral/Religious)
112 SW 8th Ave Suite 800,
Amarillo, TX 79101
(806) 353-1668
Family Support Service (*Counseling, Domestic Violence, Sexual Assault and Crisis Services)
1001 S Polk St,
Amarillo, TX 79101
(806) 342-2500
Agape Center (*Mental Health Services)
1743 South Avondale, Mail (P.O. Box 44)
Amarillo, Texas 79106
(806) 352-4475
West Texas Family and Community Services (*Case Management, Counseling, Parenting Classes and Women's Support Groups)
601 W 10th Ave.
Amarillo, TX 79101
(806) 220-2061
Call us at (806) 410-1023 so we can start helping you today!
Why Adoption Advocates?
We support birth parents' rights strongly, and you can count on us to observe them
We will guide you through the entire adoption process with educational training, counseling, patience, and respect
You can rest assured your child will know he/she was placed for adoption through an act of love
AAI was founded by an adoptee and attorney (read Jane Hall's story here) who sought the most experienced adoption social workers in the field to craft the agency's policies and mission
We know that expectant parents come to us with many fears and feeling alone. We gently guide them through the process with warmth and support ensuring that they have explored their options fully before initiating their adoption plan
We provide training sessions to adoptive parents to prepare them for the ups and downs of the journey, how to manage their emotions, and what to expect in the future
AAI is truly a family business
Links for More Information: