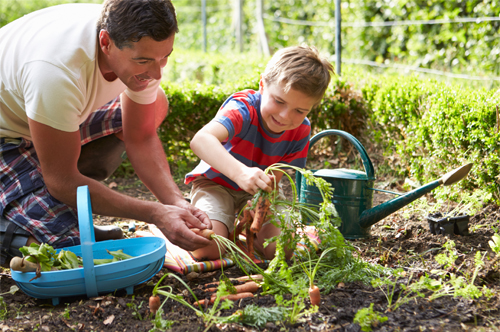 April rainfall brings beautiful May flowers. What better way to make the most of the season with your kiddos than gardening together? Here are several of our favorite gardening ideas the whole family will enjoy. It's time to get your hands dirty and create something beautiful!
Seedballs
Homegrown had a great idea for seedballs. Seedballs are basically seed pods that you can toss anywhere, off the highway, in your backyard, etc., and rely on rainfall to help them grow. They are a great way to plant wildflowers and are super fun and easy to make. All you will need are native, non-invasive seeds, compost, powdered, non-chemical brown or red clay, and water. Popular Texas wildflowers include bluebonnets, Indian paintbrushes, and Texas bluebells.
Mix two parts mixed seeds with three parts compost.
Add five parts clay powder.
Add enough water to make the mixture the consistency of dough.
Pinch off small amounts of dough and roll between your palms to create ping-pong ball-sized spheres.
Spread the balls out on newspaper in a shady spot to dry.
Once the balls have dried, pack them up in a plastic bag or basket. Toss the seedballs in your own backyard or enjoy walking around the neighborhood planting your seedballs along the side of road. Don't worry about watering these after tossing or planting them into the ground – rainfall and the clay pods will take care of the seed. Be sure to remember where you planted them so you can check back next month to see what has bloomed!
Egg carton garden
You don't need a big backyard to have a garden – you can create one in your own home in minutes with this adorable home garden idea from Make It Handmade. Best of all, it uses materials you probably already have around the house. All you need is an empty egg carton, a few seed packets and a small bag of seed starting soil.
Cut apart the egg carton bottom and top.
Using a knife, punch a small hole in each well from the bottom. (Make sure mommies and daddies are handling the cutting.)
Fill each well with the seed starting mix. (Prepare to get a little messy!)
Fill each well with one to two seeds.
Cover the seeds with a light dusting of dirt and water well.
Put the carton on top of the fridge until the seeds germinate (sprout buds).
Once the seeds germinate, move them to a windowsill where they can get plenty of sunlight.
After a couple of weeks, your seeds should begin sprouting. Kids will enjoy checking in on their little gardens and seeing their seeds come to life!
DIY chia pet
The chia pet is an old-time favorite for kids, and now you can make your very own right at home with this fun DIY N Crafts project. Simply gather a 2-liter soda bottle, silly eyes and a glue gun (you can use the bottle lid as a nose). This craft leaves a lot of room for creativity, so prepare to use your imagination!
Cut the bottle in half and use the bottom portion for decorating.
With the glue gun, stick on the eyes and nose. Feel free to draw a silly smile or eyelashes – whatever you'd like!
Fill the bottle with dirt.
Plant a couple of seeds into the dirt.
Water well.
After a few weeks, your chia pet will begin sprouting hair!
Mason jar planters
Mason jar planters are super easy to make and will help light up any room. For this craft from Budget Savvy Diva, all you need is a Mason jar (you can clean out an old pasta sauce or jelly jar from the fridge), glass rocks, and a flower or herb plant.
Cover the bottom of the Mason jar with glass rocks.
Lay down extra soil on top of the glass rocks.
Place the plant in the jar.
Water well.
Voila! You have a beautiful new centerpiece. Make sure your plant receives some tender loving care by placing it somewhere with a lot of sunlight and watering it when you need to.
Gardening with your kids is both fun and educational. They will learn how seeds sprout, how plants grow and how soil, water, and sunshine interact to create a garden. They will also appreciate the quality time you are spending together as a bonus. Now, get to work!