It's been quite a while since we had our last post about open adoption, but we're finally back! And we have a special guest blogger here today! Meet Megan Silianoff! She is one of our beloved adoptive mothers and today we are sharing a snipit of her personal testimony of the mixed emotions that she experienced throughout the adoption process and how she came to cope with it all through writing. Thanks for sharing with us, Megan!
---
99 Problems but a Baby Ain't One
My name is Megan Silianoff. I'm 31, live in Houston, and excel at shopping.  I'm a writer and most recently, thanks to AAI, a mother.  Eleven months ago, my husband and I watched our birthmother deliver a baby girl who we named Macy Carter. ("Macy" after the movie Uncle Buck and "Carter" in homage to my favorite rapper, Jay-Z.)
Being a writer, documenting the adoption process came natural to me.  It was a way for me to process the complex feelings I was harboring.  Sometimes I didn't realize the precise emotion I had about something until I went to articulate it with written words. To say that my recently released memoir 99 Problems but a Baby Ain't One – a Memoir about Cancer, Adoption, and my Love for Jay-Z was a therapeutic process for me is a huge understatement. Here's an excerpt from the book that was particularly emotional but I think will help you anticipate the emotions you'll be feeling those first days after placement.
This excerpt takes place at the end of the book. Our birthmother and I had just returned home from the hospital and wrote one another emails. These are the actual emails we wrote one another and I included them in the book.
E-MAIL CORRESPONDENCE
To: megan@hotmail.com; danny@hotmail.com
From: Sarah8910@gmail.com  (*our birthmother)
Subject: Megan & Danny
Megan and Danny, thank you. For loving her and giving her what she deserves. Y'all are a gift from God sent for that angel. I know everything that I chose to do was the right decision. She is very blessed to have y'all as her parents. And I am very blessed as well to have you as friends. Thank you for not pushing me away. For allowing me to be a part of her life, I am eternally grateful. I love y'all very much.
To: sarah8910@gmail.com
From: megan@hotmail.com; danny@hotmail.com
Subject: RE: Megan & Danny
Sarah,
I always thought the day Danny and I came home from the hospital with a baby, biological or adopted alike, it would be the best days of our life. I know now that isn't true. Don't get me wrong. I love Macy with everything I have, but I can't fully enjoy her presence because my heart is breaking for you. Please know that there isn't a minute that has gone by since I've been home that I'm not thinking of you, grieving for you, and hoping you're okay. How can I be happy for me when I'm so sad for you?
I know it will get easier for both of us. Time heals everything but it doesn't erase it. I will NEVER be able to repay you for the gift you gave us. What I can do, however, is take care of that little girl – our little girl- like no little girl has been cared for before. I can take care of her so she never needs or wants for anything. (Well, she can want for some stuff…we don't want her being a spoiled diva!) That little girl will be the most loved girl in the entire planet. Between me and Danny, you and Ron, and both our subsequent families, that are now forever joined, she is the luckiest girl in the whole entire world. All because of you.
I love you so much. Thank you.
~Megan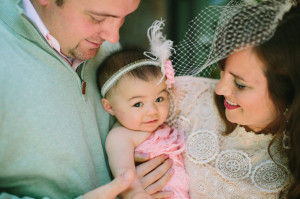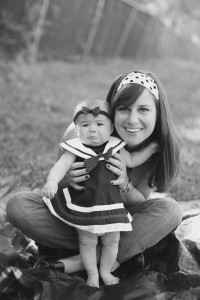 ---
*To learn more about Megan's story you can visit her blog, Greetings from Texas. Her memoir, 99 Problems but a Baby Ain't One – A memoir about Cancer, Adoption, and My Love for Jay-Z is available on Amazon.
As always, feel free to comment and connect with us on Facebook or at our new Twitter account!