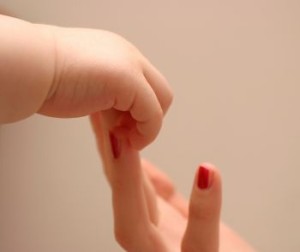 We at AAI are so honored to be a part of so many women's adoption journey. Today, we have the privilege of sharing with you one very honest and raw story written by one of our beloved birth moms. Her story is heart-felt. It is emotional. It is real.
Thank you for allowing us to step into one of your life's most intimate moments.
---
It was late May when I found out that I was 2 months pregnant. Thoughts ran through my mind, mostly I was a terrified 22 year old girl trying to graduate from college with an apartment I could barely afford. My mind raced with confusion, should I keep this baby or should I abort. I didn't think an abortion would ever cross my mind, but it did, so much so that I set an appointment to go to a clinic.
I went in to the abortion clinic feeling like a zombie, lost and helpless. Although the staff was extremely accommodating it was such an eerie feeling being inside a place like that.  I felt distant to the baby inside of me as they examined me. I waited for results and they confirmed my pregnancy and put me down for an operational procedure for the following day.
The next day I remember was a bright and beautiful day out, I felt sad but happy that this would all be over soon. It would be a few more days and I'll have my bikini body back I thought, little did I know it would not turn out the way I imagined. In the car I remember looking in the clouds and thinking of the baby, what the baby may look like, am I feeding this baby enough food? I saw a cloud and It reminded me of a baby and I noticed the sun shining and it reminded me of hope, I quickly turned the car around…I could not live with myself if I didn't give this baby a chance,  a chance to breath , to live, to love, a chance at life.
My decision for adoption came soon after. I was young and afraid to tell my family so I thought adoption was best. I found the advocate group online, the website felt safe and warm. I send over an inquiry and soon received an email to visit the organization. We went up to Austin the following week. We were greeted by warm embraces as we spoke to the director, she encouraged me to tell my family but I refused. She then said the decision was in our hands and we decided an open adoption was best.
We began receiving adoption books in the mail in September. The books were all fun and colorful.  I had in my mind set up what I wanted the parents of my child to be. I knew I wanted educated parents and I knew I wanted parents who were unable to have children of their own. It was around the end of September that I received the book I had been waiting for.  The book was half the size of the rest but had more personality than any of the books we read. We had matching dogs and they already had an adopted child and even adopted the child's language. I made the decision to inform our advocate that we had chosen a family.
My baby was to be due the end of Dec/beginning of January however, dates were off and baby came in November. I went to work the morning I went into labor as if it was a normal day however soon after being there I began to have sharp pains. I had my partner pick me up from work and we went to our apartment where we rested for a few more hours but soon the pain became worse. I went to my DR and was admitted immediately. Everything went as fast as lighting from that moment on. From test to change of clothes to IV's everything seemed to happen so very fast. An ultrasound was taken and the DR feared the baby would be born with a cleft lip; I was taken by ambulance to an Austin Hospital. Sirens ran as we sped through to Austin from San Marcos. I tried to keep calm but just kept thinking I hope the baby is okay. Once I got to Austin I called our advocate to let her now the progress and to make sure the baby had a family to go home too.
A few more hours passed and baby was born. The doctors immediately took the baby out of the room after I had her. It was my wish to not see her; I knew if I did see her I would become attached. As I laid in recovery, my partner went to pay her a visit; he didn't want her to be alone on her 1st day in the world. I remember him coming in with tears in his eyes saying "She is the most beautiful baby I have ever seen" He told me that he didn't believe the nurses when they confirmed that she was our creation.
It took a while for me but I finally decided that I needed to see her. She was placed in the NICU because of her levels. Walking up there I felt anxious and scared at the same time. I remember turning the corner and knowing exactly which one was my child, it was if we drawn towards each other.  I held her in my arms and fed her a bottle and rocked her to sleep, some of most special moments of my life were those moments with her.
To my surprise the advocate came to our room and spoke to me about the parents of our baby. She told me that they were here and wanted to meet. I remember thinking, gosh I need to look nice and represent this baby nicely. We walked down and met the parents and immediately felt a connection. We talked for about an hour about each other's lives and what we want for the baby. It was nice to connect with them automatically and feel like a part of their family.
The next day the advocate came in to the room and said she needed me to sign the dreadful papers.  I remember telling her to leave me alone for a day, I needed time. By that time I was about to get released and honestly just wanted space to myself. I went back to work the next day not even thinking about any papers, all I could think of was our baby. We went to target that day and bought the baby a basket of supplies for her to have and take with her. I also made sure to put a piece of my childhood in there for her to always have and cherish. Later in the day the hospital called and said they needed to discharge the baby, that it was time to make the decision. The advocate calls began non-stop at the time, I wanted so bad just to throw my phone off of a bridge.
We made our way to the hospital and I had so many doubts in my mind. I wanted so bad just to call my parents and tell them but something held me back. I wanted to know what I could do to keep the baby so I set up an appointment to speak with the advocate at the hospital. She assured me that baby would be in good hands with her new parents and that everything would be okay. She said that my income level was to high to receive assistance and that the best thing to do was to place the baby for adoption. After that conversation we headed towards the advocacy center. I remember walking in and having everyone there just waiting for us. I wanted so badly for them just to leave us alone, for us to think but no that did not happen. Everyone was there and sat there as they saw two people cry their eyes out while signing over our baby.
I couldn't even walk to the car, I couldn't' eat I was a lost soul. I remember hating everyone around me, I hated anyone who was happy I was mad, mad at the world, mad at God, just mad.
Days past, and POP I received an email from her parents. Letting us know that they wanted us to go to Austin before they left to see her, no question that we were there. We met with them and had coffee, it was great. I could not have picked better parents for her. After that meeting I knew she was in the best hands possible that weren't ours. Our relationship is family, we aren't friends either of us would do anything for each other at any point in time.
We are coming up on her 3rd birthday and there isn't a day that passes that I don't think of her. We now have a son who is my best friend. I look at him everyday and can't help but notice the resemblance.  They have the same eyes, the same smile and dimples on their cheeks, they are both so perfect. I am thankful for the family of 3 that became a family of 4 that was placed in our path. We love them all so much. I don't live with regrets, only hope. Hope that one day I can explain to her why we made the decision to place her for adoption. I hope that one day she can meet her brother and he can meet her sister.
We live with hope in our hearts to live happily ever after.