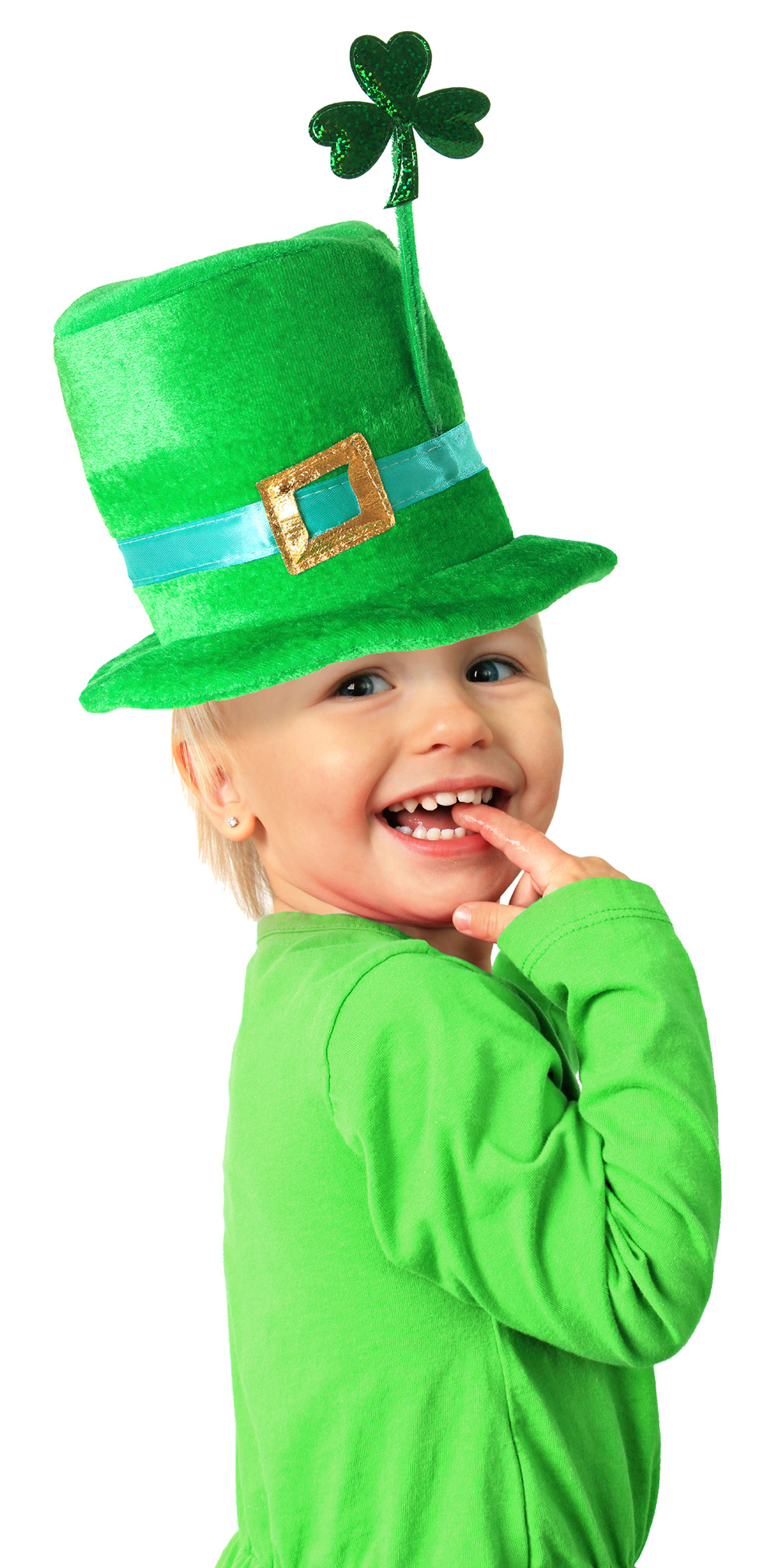 Have you ever wondered why we run around on St. Patrick's Day pinching people for not wearing green? St. Patrick's Day is celebrated every year on March 17 in honor of the patron saint of Ireland. It is a national holiday in Ireland and is widely celebrated in many other areas of the world as well. St. Patrick was a Roman Britain-born Christian missionary who lived in the fourth and fifth centuries. It is believed that he brought Christianity to the country of Ireland. There are several common St. Patrick's Day traditions, including wearing green and eating corned beef and cabbage.
One fun way to celebrate any holiday with young children involves craft projects, and St. Patrick's Day is no exception. The following ideas will get you started.
Coffee can leprechaun hat
Clean coffee cans with lids
Black and green acrylic paint
Black, yellow, and green construction paper
Craft glue
A leprechaun is never properly dressed without a hat! Make sure you look like your favorite leprechaun this St. Patty's Day with this fun hat idea from DLTK's Crafts for Kids. Have the kids paint the bottom couple inches of the can with black paint. Attach the lid to the can and paint the rest of the can green, being careful not to paint the black ring. Cut out a green construction paper circle. (It may be helpful to use a plate to trace the circle.) Glue it to the bottom of the can to serve as the hat brim.
For the hat buckle, cut out a yellow construction paper square that is slightly shorter than the black stripe on the can, followed by a slightly smaller black construction paper square. Round the corners and cut a small notch out of the black square so that it looks like a "C." Glue the notched black square on top of the yellow square, and then glue the yellow square on the black hat brim. Some people like to cut a small slit in the middle of the lid so that the kids can use their hats as piggy banks or "pots of gold." Kids will have hours of fun on St. Patrick's Day pretending to be leprechauns while wearing their hats.
Froot Loops rainbow
Box of Froot Loops
Plain white paper
Craft glue
Cotton balls
Check out this yummy Froot Loops rainbow idea from Mom to 2 Posh Lil Divas. A Froot Loops rainbow is a great way for children to work on color sorting and identification while they daydream about what might lie at the end of their rainbows. Sort the Froot Loops by color into small bowls or other containers. Then construct rainbows on the white paper, gluing down one colorful strip at a time. Finish the rainbows with cotton ball clouds at either end. Of course, the best part of the activity is that when you're done making rainbows, you can eat the extra Froot Loops.
Flowerpots of gold
Terracotta flowerpots
Black and gold acrylic paints
Shamrock outline
Nothing says St. Patrick's Day like a pot of gold! Start making your gold with this fun idea from The 36th Avenue. Paint the entire outside of the pot with black paint and then the upper edge with gold paint. Finally, take the shamrock outline and tape it to the side of the pot with Scotch tape. Have the child fill in the shamrock with more gold paint. Wait until the paint has dried before you take off the shamrock pattern. Once your pots are finished, kids can fill them with items of their choosing, such as candy or chocolate. You can also have your kids use their terracotta pots for small flowering plants or herbs such as four-leaf clovers! The leprechauns won't be able to stay away from these adorable pots of gold.
Have fun getting creative with these St. Patrick's Day craft ideas for the kids. Your little ones will learn and have fun while doing so! Happy St. Patrick's Day!