We've all been there, looking forward to spending the day outside with your kids, getting them all dressed for a day of fun in the sun when you hear a boom – thunder. Can you believe it? It's literally raining on your parade! Don't sweat it because there are plenty of fun activities for you and your kids to enjoy both inside your home and around Austin.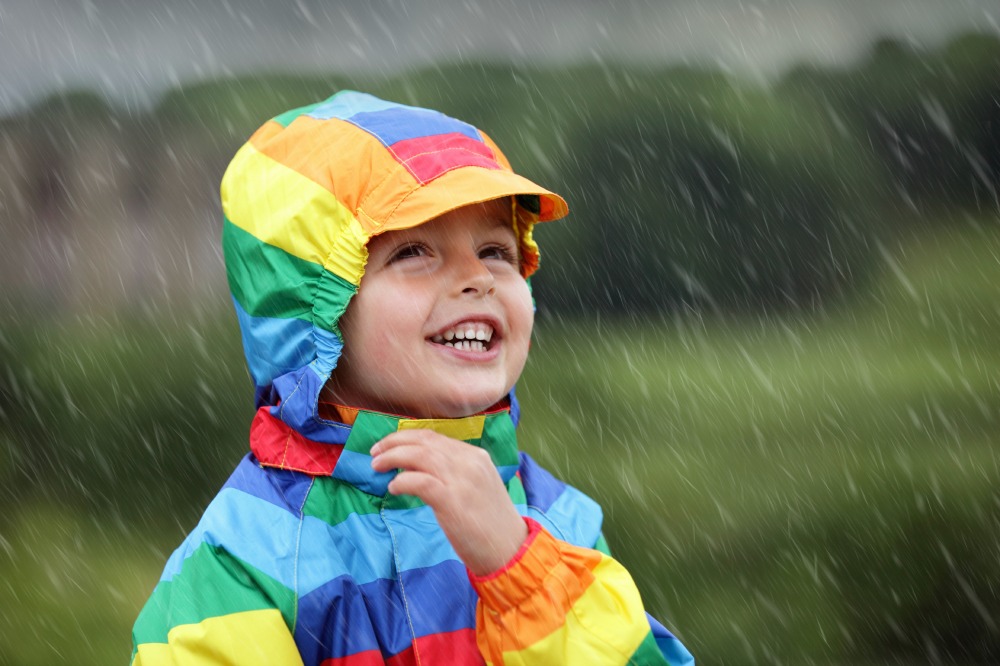 Indoor Pool Party
Just a warning – this might get a little messy, but if your kids are bummed about not being able to make it to the beach or neighborhood pool, transform your bathroom into an island paradise! Fill up the bathtub with lots of bubbles and toys, and have your kids put on their bathing suits and bring their scuba gear for a super fun pool party! Throw in coins for the kids to find and let them keep the money as treasure. An indoor pool party is a great way to keep your children entertained and get their imaginations flowing. If there's no lightning outside, another alternative could be to slip on your galoshes and raincoats for some singin' in the rain while you enjoy splashing around outside in the puddles.
DIY Clubhouse
Gather as many blankets, pillows and cushions as you can and pitch a tent in the middle of the living room. Have each of the kids bring their favorite puzzles, books and toys to play with inside the tent – making it their very own private clubhouse for the day. With the rain outside, kids will enjoy pretending they are camping or on a boat. You can even turn off the lights and get a flashlight to tell ghost stories! Top this off by making s'mores by candlelight for an even better indoor camping experience!
Kitchen Helpers
A rainy day is the perfect excuse to bust out all of your baking equipment and get to cooking! The house will smell amazing after baking homemade cookies and other yummy treats. Assign each kid his or her own designated tasks, such as mixing the dough or pouring in the chocolate chips. Get out your colorful sprinkles and icing and have the kids decorate their cookies with crazy designs. They will love feeling like grown-ups by being involved and helping out.
If you're feeling brave enough to venture out in the rain, take a short car ride to one of these great Austin indoor activities.
Blazer Tag
For a more active way to pass the time, check out Blazer Tag. Blazer Tag is the largest laser tag arena in Texas, with three stories of towers and ramps that make for the ultimate hide-and-seek game for ages 7-97. Players carry futuristic phasers and run around the course to tag opponents and score points. After the game, check out the arcade – it offers more than 50 high-intensity games, including classics like Pac-Man and Galaga and modern favorites like Guitar Hero, Dance Dance Revolution and Deal or No Deal. Redeem your tickets for prizes at the end!
Thinkery
If you are looking for fun while learning, check out the Thinkery: The New Austin Children's Museum. The Thinkery plays an important role in developing future generations of creative problem-solvers. With fascinating exhibits such as the Kitchen Lab, Spark Shop and Light Lab, the Thinkery supports hands-on learning with activities and content appropriate for children of all ages.
Jumpoline Park
If you really want to tire your kids out, make a trip to Jumpoline Park. Jumpoline Park is a family-friendly center that features wall-to-wall trampolines. Test your skills at trampoline basketball or dodgeball, and, if you're a gymnast or experienced jumper, try out flips and back handsprings on the main court lanes. Safety staff is on the floor at all times to ensure everyone is safe and following the rules. Parents are also allowed to jump, so you can all enjoy a jumping good time together. Did you know jumping on trampolines burns approximately 600-1000 calories per hour? What a surprisingly fun way to exercise!
Next time the weather decides to rain on your parade, turn that frown upside down by declaring a family fun day. With fun-filled activities like these, your kids will be wishing for the rain to NOT go away!