Meet the Lim family: David, Jo, Madi, and their newest member, Chase, who was adopted last year. While the Lims were waiting during the adoption process, various thoughts and questions swirled through their heads. Madi, the big sister, was super curious about her new brother or sister and wanted to be able to help take care of the baby when he or she arrived.
While standing in the middle of the diaper aisle of Babies R Us one day, Madi was amazed by the sheer selection of diapers available and wondered which brand is truly the most absorbent. For her fourth grade science fair, she decided to do a science project on diapers to get to the bottom (LOL) of this question.
The Preparation
Which brand of diapers is the most absorbent?
Madi selected four major brands: Pampers, Huggies, Luvs, and Natys (an eco-friendly, all-natural, disposable diaper) to do the experiment.
The Experiment
For the experiment, Madi put two cups of water and a few drops of food coloring into a pan. She placed each diaper in the pan one at a time and waited a minute. Then, she measured how much water was left in the pan from each diaper.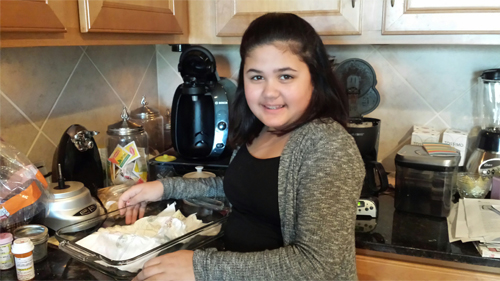 The Results
The results were very interesting. The Naty diaper did not even absorb half of the water! Huggies left 1/4 cup in the pan while Luvs soaked all the water up quickly, but the diaper itself was quite leaky. Pampers was the only one that soaked up the entire pan of water with zero leaks, making it the clear winner.
Needless to say, I am sure you can guess which diapers little brother Chase wears now.