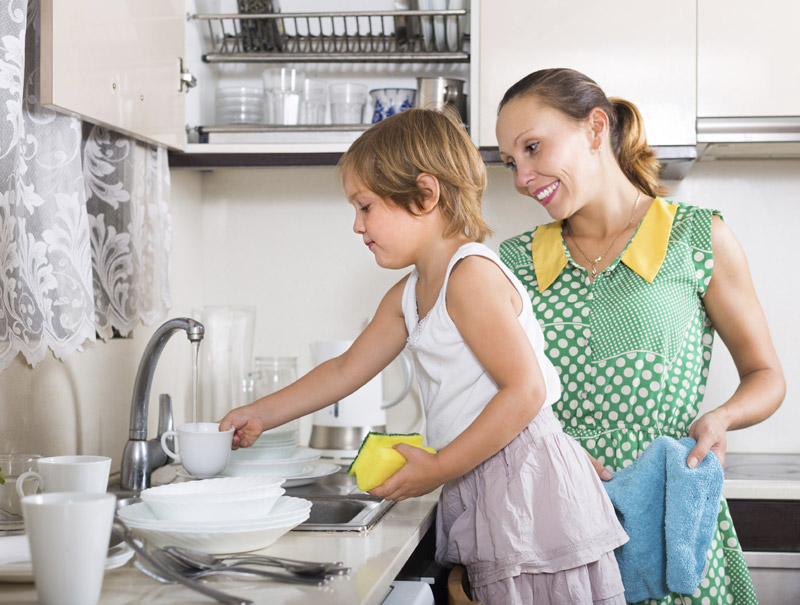 Spring has sprung! It's time to pick fresh flowers, enjoy warm weather and… engage in spring cleaning. Windows need washing, carpets need vacuuming and yards need mowing. Make spring cleaning enjoyable by getting the whole family involved. It can take a little convincing to get kids excited, but these fun cleaning activities should do the trick!
Turn it into a game
Kids love games, so turn your spring cleaning chores into a fun contest.
Tackling your children's closets can be intimidating. For a unique spin on this classic task, have them try on their clothes and label each item with one of three colorful stickies: keep, toss and donate. This will help keep things organized.
If you have a lot of debris in your yard, set a timer and see who can collect the biggest pile the fastest. Kids love friendly competition, so reward the winner with a treat.
To make laundry more enjoyable, try a little laundry basketball. Grab a couple baskets and label one "whites" and the other "colors." Kids can take turns shooting by separating their dirty laundry.
Break it down
Kids' attention spans are short, so break your chores into quick, manageable tasks.
Start by instigating a "two-minute tidy." Set a timer for two minutes, then see how much your kids can accomplish within the time frame. Let them have a quick break, reset the timer and do it again. You will be surprised at how much progress they make in such a short amount of time.
Another fun spin on this involves assigning each kid a color and having them pick up everything of that specific hue in the allotted time frame.
Music to their ears
Whistle while you work by making a playlist to get everyone energized and moving.
Have every kid pick a few of their favorite "feel-good" songs to add to the playlist. Have fun sweeping the floors and dusting the shelves as you dance and lip-sync around the house!
Have everyone put on their fuzziest socks to wear while cleaning – this will help to collect dust bunnies.