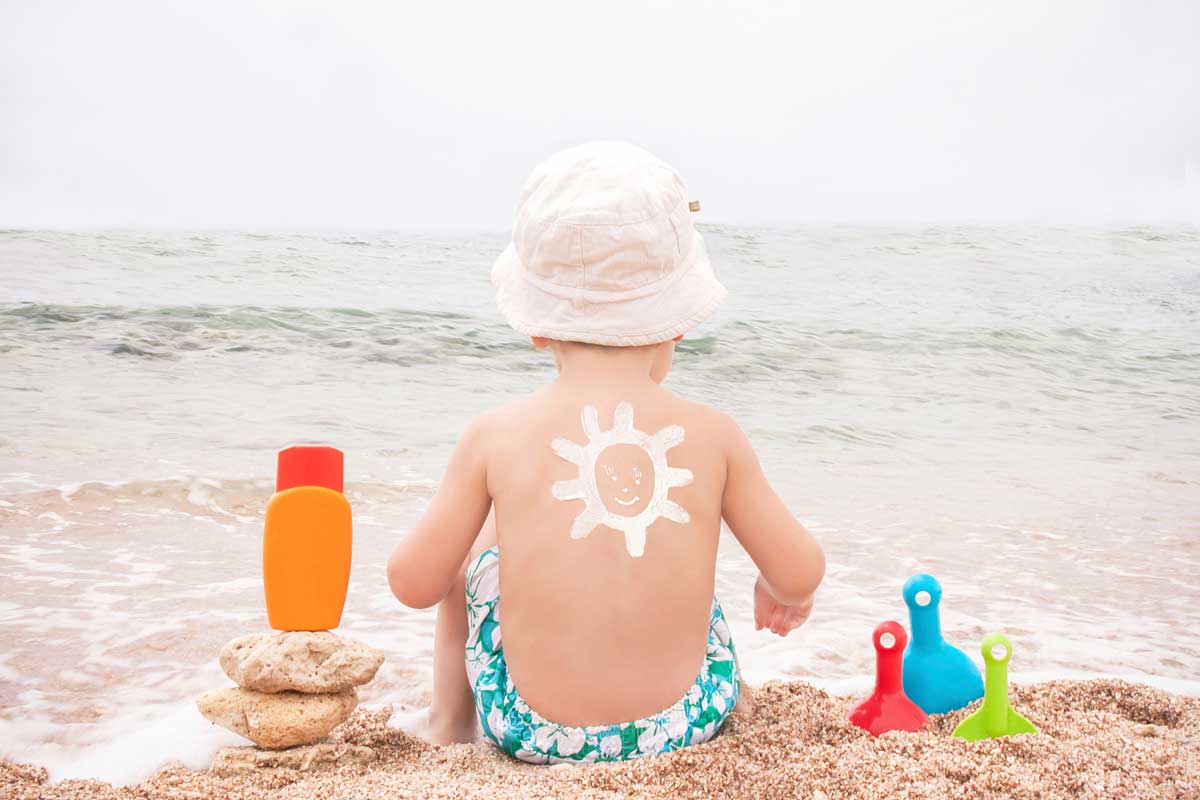 The long, hot days of summer are approaching. Safeguard yourself and your kids from harmful rays by practicing proper sun protection when outdoors.
Sun Safety 101
Avoid being out during the hottest times of the day. Extended outdoor activities are best planned for early morning or evening, when the sunlight is less direct. Try to stay in the shade around noon, as this is the time the sun is highest in the sky.
You still need protection on cloudy days. Ultraviolet radiation can penetrate through clouds and damage your skin.
Fair-skinned people will need to be extra-vigilant about sun safety. Their skin is more sensitive to exposure.
We Scream for Sunscreen!
Your most basic defense against sun exposure is sunscreen. You want to make sure you pick a quality sunscreen and apply it properly on your children.
Lotions are more preferable than sprays. They cover the skin better, do not have harmful fumes, and will not catch on fire.
The Sun Protection Factor (SPF) of your sunscreen should be at least 30. You also want to look for broad spectrum protection sunscreen. This means that all the sun's rays will be blocked, not just those that cause sunburn.
Apply the lotion liberally to exposed skin. Re-apply every few hours as needed. The most commonly missed spots are scalp, ears and tops of feet!
Go for a water-resistant sunscreen if you know you are going to be at the pool or beach. You'll still need to re-apply after a swim and every few hours.
Infants under six months of age should not wear sunscreen. Instead, keep them in the shade or cover them up with a blanket or towel to avoid direct exposure to the sun.
Keep Cool and Cover Up
Wearing the proper clothing and accessories is an important part of staying protected from the sun.
Wear loose cotton clothing to keep you cool while blocking the sun.
A hat will protect your face, head and neck from the rays.
UV-blocking sunglasses will prevent damage to your eyes.
If you have sensitive skin, you might want to consider purchasing special UV-blocking clothing before spending a lot of time outside.
Although you can't exactly wear this, an umbrella is a great accessory to have handy while out in the sun.
Enjoy all the fun outdoor activities summer brings without the worry. Practicing proper sun protection when outdoors is an important habit to begin teaching at a young age. So, next time you're out in the sun, remember your mom's advice and don't forget the sunscreen!