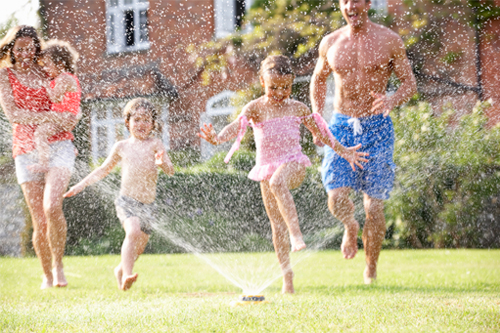 With summer comes more free time (at least for the kids) and long, hot days. While beating the heat by relaxing at the beach or pool sounds ideal, it's not always convenient. However, with a little creativity and a lot of water, you can find exciting and often inexpensive ways to bring the beach to your own backyard.
Pop-up pool
An inflatable or plastic pool is a great way to keep cool and have fun in the sun for hours. Pools come in all shapes, colors, and sizes. You can get a couple for your older and younger kids to enjoy, and even your four-legged friends can join in with the fun. Throw in pool toys like goggles, floats, and diving coins for more adventure. Pop-up pools may be shallow but adult supervision is still necessary, especially for young kids who can't swim.
Sprinklers
A fun pool toy that you probably already have in your backyard is a sprinkler. Water your grass while also providing hours of entertainment! Your kids will enjoy running around the yard trying not to let the sprinklers "catch" them and slipping on the wet grass.
Water gun war
Water guns are a classic and must-have toy for summer. From small squirt guns to mega super-soakers, these bad boys are great for keeping cool while playing a friendly game of chase.
Water balloon fight
Water balloons are another classic and inexpensive way to have fun while keeping cool. They still look the same as they did when you were a kid, but now you can buy additions like slingshots to take water balloon fights to another level. Water Balloon Pinata is a popular hit at summer birthday parties: Hang a few giant water balloons then send someone in blindfolded to whack away while creating a wet mess!
Slip 'N Slide
For the older kids who are young at heart, Slip 'N Slides are a great option. If you want to save money, you can easily make a homemade variation with items found around your home. All you need is a plastic tarp, soap, and water. Feel free to make your DIY project as long and slippery as you want! Be careful to check for rocks, sticks, and other sharp objects before laying down the tarp.
Working at the car wash
Kill two birds with one stone by making the chore of washing the car into a party! Throw on your bathing suits and fill up a couple of large buckets of water and soap. Give each person a special job, whether it be soaking the car with water or lathering it up with soap. Everyone will have fun pitching in – and at the end of it all, you'll have a nice clean car.
Garden hose
Don't underestimate the fun a simple garden hose can bring. Sometimes all you really need is water to have a good time. Fill up cups and buckets to dump on each other or even launch a surprise attack on an unsuspecting victim.